2021 #ChalkTheWalkTangi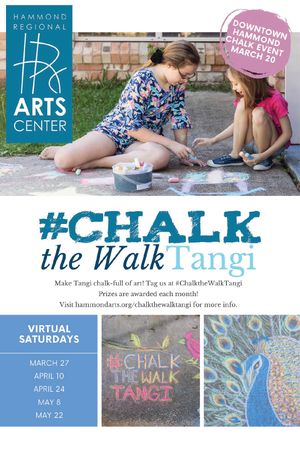 Make Tangi "chalk-full" of art!
Hammond Regional Arts Center is bringing back its #ChalktheWalkTangi initiative aiming to spread some positivity and expression in our communities with fun, colorful chalk walk drawings on their sidewalks and driveways this spring.
Visit the HRAC and take in the artworks on display for inspiration, or look at images from last year's chalk walk with the samples below. We encourage everyone to come out and leave positive messages and drawings in their home communities.
Be sure to share your chalk drawings on Facebook and Instagram with chances to win prizes each month, including a free ARTisTRY class or a free Art-O-Mat token. 
To have your masterpiece featured on HRAC's social media, take a picture and post it with the hashtag #ChalktheWalkTangi, and please tag HRAC at @hammond_arts on Instagram. Be sure to check out the other submissions by participants too!
The scheduled dates for 2021 #ChalktheWalkTangi are:
March 27
April 10
April 24
May 8
May 22
Get ready for the chalk walk with our online tool kit. This online resource includes chalk art tips, suggested materials, and a Spotify playlist for some fun songs to listen while you create.
#ChalktheWalkTangi Tool Kit: