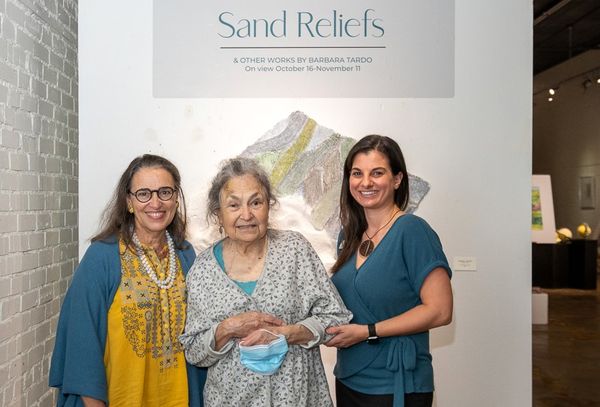 Exhibition curator Denise Tullier-Holly, artist Barbara Tardo, HRAC director Melissa Griffin
Photo by Phillip Colwart
It's been such a pleasure working with, and getting to know, artist Barbara Tardo. Over many decades she has been a supporter and friend to the Hammond Regional Arts Center, and we so greatly appreciate her.  As we prepared for her exhibition "Sand Reliefs & Other Works" at the Hammond Regional Arts Center gallery, I had a chance to hear her story and learn more about the journey she's taken as an artist. She sat down with Eloise Cottrell of Tangi Lifestyles Magazine one morning in our Mezzanine Gallery to tell that story. 
She started pursuing the arts as a young adult when she moved from New Orleans to Hammond to attend Southeastern College (now Southeastern Louisiana University) with a few girlfriends in the 1950s. She told stories of her early years in Hammond and her travels across the southern parts of the United States, particularly to New Mexico. Receiving a spark of inspiration from the New Mexican landscape, she would "hang out the window of the car with a camera, taking pictures" as they whizzed through the countryside. Those photos would become a rooting theme for her life's work for decades to come.  
"My subject matter has always been--if it's not a person--landscape," she commented. If you know her work, you know her subject matter is often portrayed in abstraction. She later went on to say, "I love realism, but it's boring for me because it has a logical end, and abstraction doesn't. Abstraction gives you lots of room to play."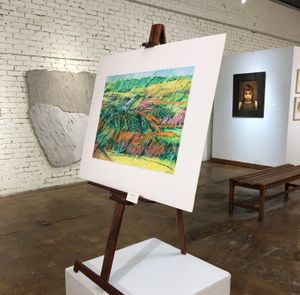 photo by Melissa Griffin
Barbara Tardo is now in her early 80s and still embodies that playful spirit. Her wise-cracking sense of humor and her constant smile make her a joy to be around, but it's her genuine love for people that brightens the room. And her story doesn't end there. In her 30s, she was diagnosed with a genetic, degenerative condition that meant over time she would lose her eyesight. Most people would consider this devastating, but Barbara Tardo is not most people. She continued working as an art instructor and an artist for a number of decades following that diagnosis. In fact, the sand reliefs she sculpted in her back yard while living in Folsom were created less than 10 years ago. Only recently has she stopped creating art in the formal sense of the term.  
Many years ago, Ms. Barbara donated a large portion of her work to the Hammond Regional Arts Center.  As she puts it, "Art you make for you is not something you sell," so she, most often, gives her art away. A few of those pieces were placed in our permanent collection--the rest were stored. This summer, she donated her sand reliefs to the Hammond Regional Arts Center. "Sand Reliefs & Other Works" curated by Denise Tullier-Holly is the recent exhibition of her work at our gallery.  Friends, loved ones and community members had a chance to experience her work and get a sense of that journey she discussed during the magazine interview.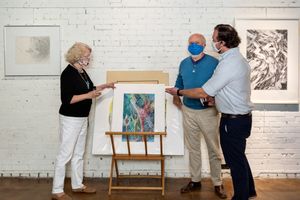 photo by Phillip Colwart
Because of her donations of artwork, the Hammond Regional Arts Center sold some of the pieces that hung in the gallery in October. Now, people who appreciate her work will be able to enjoy it in their homes, and the funds will be used to further the mission of enriching people's lives through culture and the arts. Those funds will support our four exhibitions settings: the main gallery (open since 1982), the Mezzanine Gallery (open since 2019), the Virtual Gallery (on our website) and our new Pop Galleries (displayed in the windows of vacant commercial spaces around the community).  
I have been encouraged and energized by my encounters with Barbara Tardo. Her generosity and her kindness are stunning. More information about her life and work can be found in the October issue of Tangi Lifestyles Magazine, as well as on the Hammond Regional Arts Center website (www.hammondarts.org) and social media pages.  
Sincerely,
Melissa Griffin, Executive Director
Hammond Regional Arts Center