Written by Melissa Griffin, Executive Director
I've had the pleasure of witnessing firsthand how art education reinforces a student's regular curriculum in a fun and engaging way.  In art classes, elementary students are identifying shapes and colors, as well as practicing fine motor skills and counting.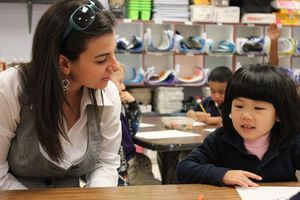 Executive Director Melissa Griffin talks with elementary school student about colors and concentric circles. (2013) Photo by Phillip Colwart.
For older students, the arts are an opportunity to develop an understanding of themselves and the broader world around them while they push themselves both technically and creatively.  As the career marketplace changes and the need for visual, digital and creative, skilled workers increases, thus making art classes are valuable skills-development opportunities. 
Every year for the past two decades, the Hammond Regional Arts Center has hosted an art exhibition that features artwork by students from Tangipahoa Parish.  It's a professionally installed display of art and a proud moment for these young artists.  Each year our organization is so proud and amazed by the hard work, incredible creativity and inspiring talents in our parish—a strong reminder of the power of art education in our schools.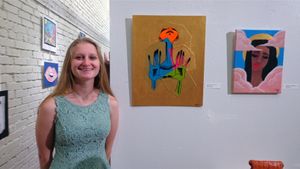 Ponchatoula High School student Vanessa Smay with her piece "Ohm" in during the 2020 Young Artists Exhibition. 
We understand that COVID-19 has altered the landscape of education.  At the Hammond Regional Arts Center, we are committed to continuing, or restoring, tangible methods by which we can offer support and encouragement for the arts in our region.  I am currently working together with the board of directors on our plans to do so in 2021, and I'm excited about what's to come!
Every child is an artist. The problem is how to remain an artist once he grows up.   – Pablo Picasso
| | | |
| --- | --- | --- |
| | | |