Young artist Vanessa Smay, a senior at Ponchatoula High School, sat down with HRAC to talk about her current work, her beginnings in art, and her favorite piece from her catalogue. Read our Q&A below and learn more about this featured young artist, then check out her work on display during the Young Artists Exhibition this March.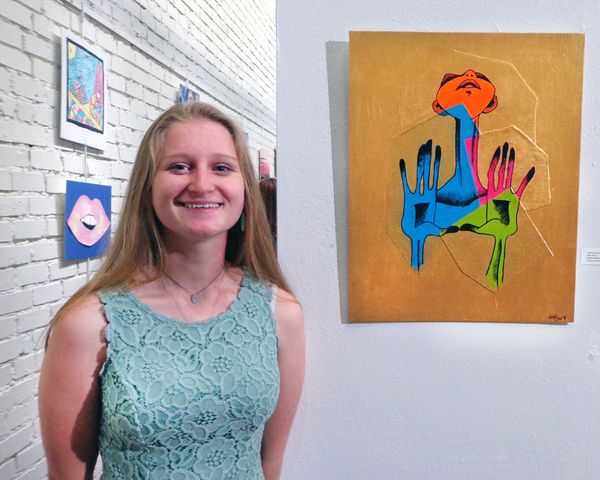 Tell us about yourself. Do you remember your first encounter with art? What made you want to be an artist? 
My name is Vanessa Smay. My mom was probably my earliest encounter with art. She was more of a "hands-on, let's try this thing" kind of mom, so we did a lot of finger paints and modeling clay when I was younger. As I got older, I figured out that I enjoyed the process of creating things that I thought of, and I loved being able to express them through different mediums. I went through (and still am going through) so many mediums to figure out what my favorite was.  

What is your artistic aesthetic? How has it developed in your art? 
I'm not quite sure what category my art fits into directly, but I feel like I have a surrealistic approach to a lot of my art. I studied body proportions and figures a lot when I was younger, and I feel like I have developed my own way of creating these figures that seem proportionate yet elongated. I tend to stretch the features of a normal atomical figure in many of my pieces.  

Tell us about your process; how do you work when creating a piece? 
My process continues to develop as I get older and get more acquainted with my supplies and tools. As of now, I work very quickly. Both of my art teachers always tell me to slow down and take some extra time to look at a piece before I completely resolve it, but I tend to finish my pieces in a day or so. There is not much pre-planning that goes into my art. Sometimes it's a very rough sketch in one of my journals, and other times I just dive right into a piece whenever I find a piece of paper or fabric large enough for what I think I need. Most of the time, my pieces come out completely different than what I first imagined.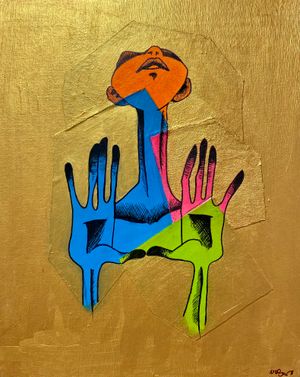 What's your favorite piece from your personal work? 
My favorite piece from my work in the past few years is Ohm. This piece was displayed in the Young Artists Exhibition last year. I really enjoyed the process of this one. I got to experiment with textures and color a lot. While color is usually prominent in my pieces, texture usually gets left out because I work in mediums that don't allow for so much of it. With Ohm, I used different fabrics and cork as a base and then painted and inked on top of those with metallic acrylic and India ink.  

Is there anything that you'd like to make people conscious of through your art? 
I often get asked what meaning is behind a piece that I've created. Most of the time, I don't have an answer. I like to see what other people interpret from my work. I don't really believe that I create art for a specific cause or purpose other than the sole fact that I enjoy doing it, and I love to see how other people enjoy and interpret my work.  

What are you working on at the moment? 
I have just finished a piece. I decided to experiment with mixed media and collage with this one. I tried to introduce depth and a different perspective in this work, so I started this one on a piece of acrylic plastic. I layered old homework and maps on the backside and painted and scraped on the front side. The two figures are references from myself and my best friend. I'm not really working on a piece at this time, but rather a place to create. I am fixing up a smaller outbuilding that is on my family's property so that I can have my own studio and give myself more space to experiment and create. I plan to expand my work into ceramics and textiles with the extra space.  
 
"I can't really say that I 'taught' Vanessa much, she didn't need it; her time in the Talented Art Program was more experimentation and exploration on her part. I feel very confident that she will be an amazing and prolific artist, she has definitely found her own unique style and settled into it." - Jordan Kenning, HRAC Board Member and Talented Art Teacher
What is your dream project? 
I don't think that I have a "dream project" in mind. I'm sure that I will one day, but for now, I honestly just create on a whim. I tend to jump in without planning or mapping out the ending product. 

Has the opportunity to exhibit at the Hammond Regional Arts Center shaped your career path? And if so, how? 
I do feel like the opportunity to share my art with people has changed my perspective on what I do. For as long as I can remember, my family has built and renovated homes. To some people, that is an art form all in itself. Because I've always been exposed to it, I have decided to take the same career path as my parents and run my own business and possibly take over theirs when the time comes.  

What else are you doing to ensure you continue to grow and develop as an artist? 
I plan to keep creating, and I would also like to continue to share my art through galleries and media.  

Is there anything else you'd like to add that I didn't directly ask or touch upon? 
I recently got prints made of some of my favorite pieces I have done in hopes to expand my audience and also helping me grow from an artist who works in her bedroom to someone who could potentially be successful through my art. 
Some of Vanessa's current works featured below on display now at Hammond Regional Arts Center.