Art galleries can be inspiring places to visit, but not everyone knows how to enjoy a trip to a gallery. Here we offer some tips in a brief guide to make your next visit to the Hammond Regional Arts Center fun, stimulating, and thought-provoking. Following some, or all, of the suggestions, will help you approach art, engage with HRAC, and create a new avenue of enjoyment for yourself. 
Go with a Friend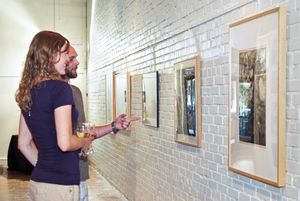 Many things are more memorable and fun if you do them with friends, and gallery trips are no exception. Visiting a gallery with a friend and seeing one of the standout pieces is a thrill that hardly needs explaining. And having discussions with a friend about the art will help you think about what you're viewing more deeply. It may even help you notice details you might otherwise have overlooked on your own. 
Explore Both Galleries 
Once you arrive at HRAC, the best thing to do is walk around the two exhibition spaces. The Main Gallery is located directly upon entering the building, and the Mezzanine Gallery is located up the main staircase. Work your way down and across and note which exhibitions are located in which spaces. HRAC staff encourages everyone to walk both shows from beginning to end at least once. 
Engage Mentally  
Art is displayed in galleries for us to enjoy but also for us to think critically. During your HRAC visit, you should stop and take some time in front of individual works that capture your interest. Think about how the artist created the work with the mediums or techniques used. How does it speak to you? Was the piece meant to be commentary? These questions are some examples to help you look at the work in an active and engaged frame of mind.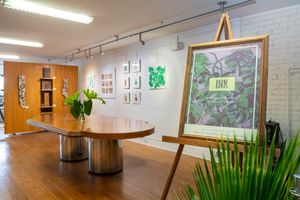 Take Photographs 
The act of taking a photograph can increase your connection to a piece of art, making it more memorable and making you look at it from a different lens (pun intended). Once home, your photos can be a nice personal reminder of your trip. HRAC welcomes you to take non-flash photographs of display art for private use. However, always check before doing so, as sometimes it will not be allowed for various reasons such as copyright and legal protection of loans. 
Purchase an Art-O-Mat Token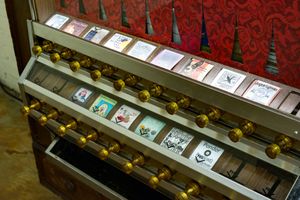 Don't let the vintage cigarette machine inside HRAC fool you. Inside it holds one-of-a-kind pieces of art that fit in the palm of your hand with works ranging from fine to functional such as tiny art prints, handcrafted jewelry, miniature sculptures, small mobiles, or handcrafted soap. The Art-O-Mat is a nationwide movement, and HRAC is one of four locations in Louisiana to host one. It's never been easier to become an art collector and is the perfect way to treat yourself during your HRAC visit. 
Visit a Local Café 
Enjoying a coffee and pastry after a trip to an art exhibition is a pleasant way to end the day. Nearby cafés such as Luma Coffee, Courtyard Café, and PJ's Coffee are perfect places for engaging in conversations about art. You'll also have a chance to reflect on art displayed at these local businesses, which can be quite an enjoyable experience. And who can say no to another opportunity to find more art in Hammond? 
Visit HRAC on the Go or at Home 
You don't have to be inside the HRAC to visit HRAC. If you're out and about in Hammond, check out the current featured Pop Galleries. These temporary galleries "pop-up" in and around Hammond as a community beautification project bringing local art to the public. Or once at home, you can still engage with the HRAC through your home computer by visiting HRAC's Virtual Art Gallery, which features items for sale by artists from the local community.